After running 500 rounds of PMC Bronze through my 1911 Scorpion, I decided it was time to figure out what be the best HD/EDC ammo for me to carry.
This is a case of "just wanting to be sure".
The wife and I went to the range and I took eight different types of ammo with me.
WWB 230 gr FMJ
Privi Partizan 230 gr FMJ
Federal American Eagle 230 gr FMJ
Speer Gold Dot 200 gr JHP
Barnes Tac XPD 185 gr JHP
Hornady Critical Defense 185 gr
Winchester PDX-1 230 gr JHP
Remington UMC 230 gr JHP
I had the wife randomly number the ammo on a spreadsheet and she loaded the magazines with five rounds each.
To ensure I remained as unbiased as possible, I made sure I didn't look at them as I loaded the mags into the gun.
Each five shot group was fired from 15 yards using a standard two-handed Weaver, with no more than two seconds between shots.
Here's the results: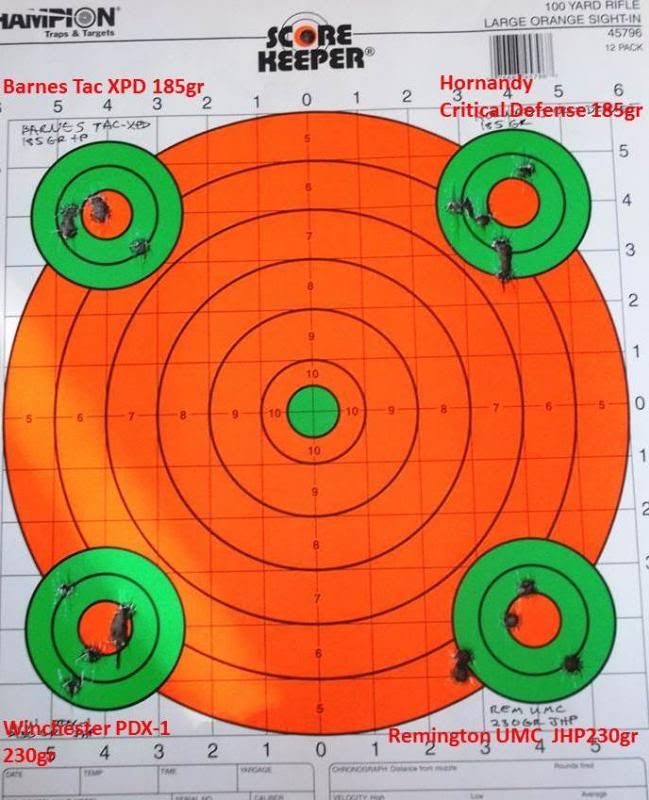 I fired a total of 50 rounds each after the "accuracy" part of the test, and jotted down a few notes:
Barnes Tac XPD was the softest shooting, with the least muzzle flash.
Speer Gold Dot had the harshest/sharpest recoil, with the most muzzle flash.
Winchester (White Box) had 3 x FTF's in only 50 rounds.
Based upon my less-than-scientific results, I have no reservations about on carrying the Barnes Tac XPD and depending on it with my life.
Note: After my wife's XD-S came back from the recall, we conducted the same type of test, but with only 5 types of ammo, from 7 yards.
It was a toss-up between the Barnes Tac XPD and the Critical Defense for accuracy, but with the softer recoil and muzzle flip and lesser muzzle flash, the Barnes won out.
We could have been more accurate shooting from a bench or rest, but I figured the BG's won't give me a chance to set things up, or stand in front of a benched gun for very long.