Quote:
Originally Posted by
TheTinMan
Now this is an educational video:
http://m.youtube.com/watch?v=3duhNVj...%3D3duhNVjAu6E
No worries about using a pesky scale or optimizing COAL!
Actually I find it fascinating that hand loading could be done with such simple tools. Hammering the new primer into the case does give me the willies though. So does loading a cartridge which can handle chamber pressure up to 50,000 psi this way.
I'm confused about the fact that he doesn't appear to bell the case mouth. Must be part of the "sizing" step.
Mighty nice rifle! I want an 1895 that holds 9 rounds in the chamber.
Tin Man, you don't have to be a scared to load the primer with these LEE loader kits
As Nick mentioned, if you maintain your alignment of the case in the die it goes pretty uneventful.
As far as charging the cases goes, "throwing" powder charges has been around since the beginning of Handloading.
For basic loading they work very well and the kits like the LEE loader while a little "dated" for what most folks would consider modern production loading equipment are better suited now for say the survivalist or "bug out" mode application where these kits are ideal for these modes of loading.
The powder scoops are all in increasing graduated cubic centimeter volumes
So when using the LEE tarage table included in the kit you just apply the published load data and cross reference the tables to see which scoop is appropriate for your powder and charge weight you want to apply
For safety you generally look for a scoop that will throw about 10% below maximum load data for the powder used and tweak from there (if possible)
Or, for milder loading just find a scoop that matches the data closer to the starting charge weight data.
It's all pretty simple.
About the only thing you gotta watch out for is using powders with extreme or very high load density, as you can understand, here powders like AA 8700 with its high loading density may not "transpose" as accurately as desired so additional attention may be warranted.
Or, powders like 296/H110 where loading below known minimum reductions in charge weight are regarded as not safe.
So checking with a scale to see what "exact" percentage you are above or below the data with a given powder throw and "recommended scoop" with some powders is advised, then just make the adjustment to your throws and note the specifics in your load log.
But for the most part the system works very well as designed.
Here are some pics of the LEE measuring kit Tin Man
I use these now as a way of accelerating my loading using my auto dispensing loading from my Lyman 1200
If I'm loading say 46.5grs. of Varget into a 45-70 case for one of my mild loadings in this caliber I set the Lyman for 46.5grs. and then find a scoop that will deliver around ~ 32 to 35grs.
This way, once I hit the button to start a load dispense from the Lyman I just "throw" a scoop of Varget from a bowl into the powder tray on the scale and the machine "whirs up" for a couple of second and then just "trickles" in the last few tenths of the load.
It cuts the loading time into a block of cases down by about 80% making loading into the loading block very productive.
The LEE Measuring Kit
Calibrated Powder Scoops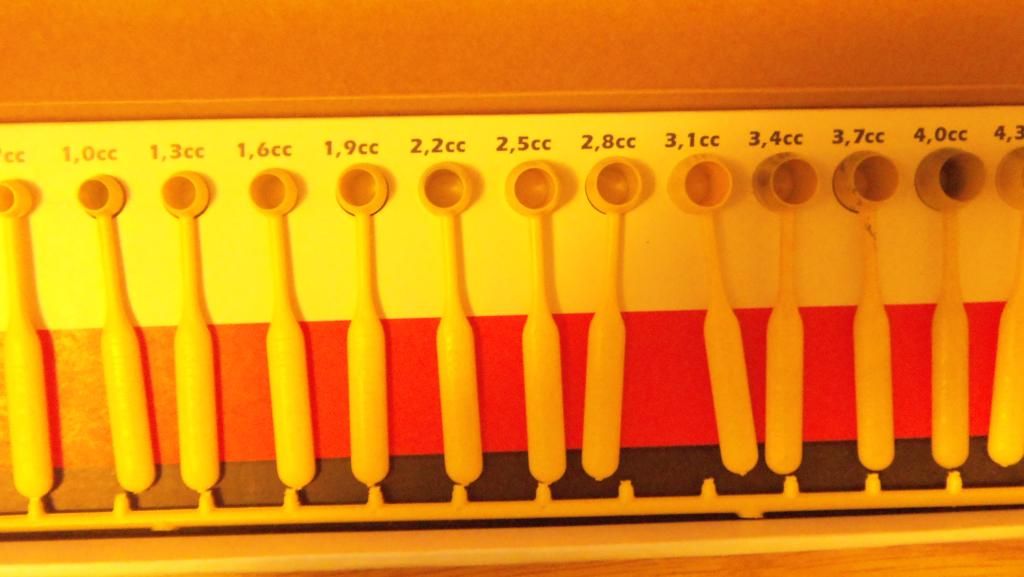 Tarage Tables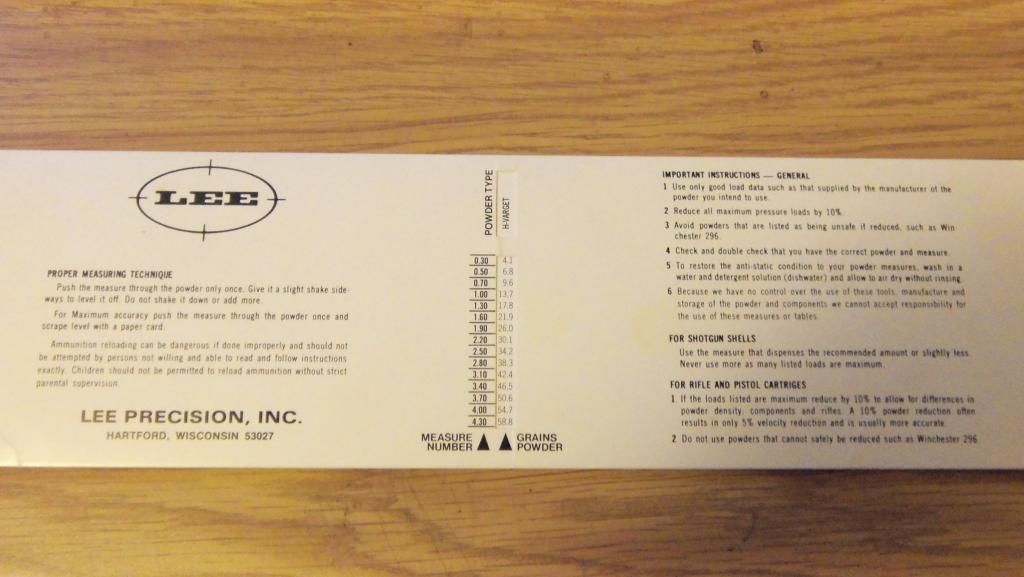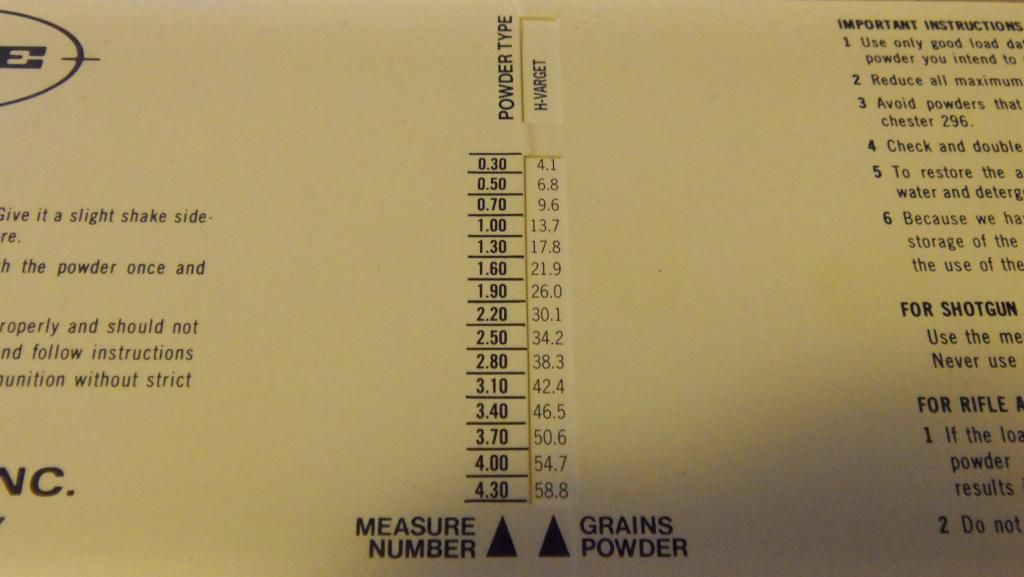 Good Luck