Here is a Dom Hume that I just started using on my New as of yesterdays Sig C3,. I used the same holster on my Kimber Ultra carry 3 in 1911 9mm 1 year ago. I wore the Sig all day today and it was very comfortable with the larger C3 in barrel length.
Great high ride and great price for about $25.00 Here are the two I have. I wore the Black one tighter with the jeans I had on and It does not dig in anyplace. You can not see the grips at all and with any jacket or vest or shirt that is out cover the barrels and the little that might stick out getting in and out of a car most people would not know what they are. It could be a cell phone PDA or so many things that people are wearing on their belts. The common person does not look for as gun unless you are carrying and look for others. I do not. If you are a bad guy looking then that is fine with me. The only thing I am goung to add to my C3 is a set of Crimson Trace lasers. I have them on my J frame that I carry when it is best to use a pocket holster. I have relied in the real world that in a real life situation you are going to have one hand to fend of the bad guy and hopefully your gun in the other. After practicing with the lasers on the wheel gun I want one on my 1911. Your options are so much better. Here are two review of the JIT Slde
http://www.stonerholsters.com/index....1&reviews_id=5
And this one
http://www.donhume.com/index.php?mai...3&reviews_id=6
Sig Sauer C3 4.25 inch barrel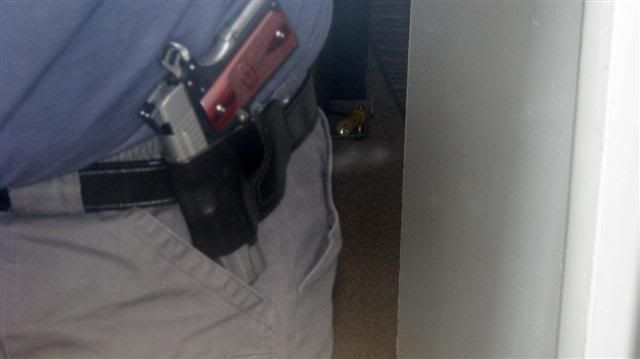 Kimber 3 inch Stainless ultra carry II
[QUOTE=Paulinus;1832744]Over on SigForum one of the members (DocSig) wrote the following regarding a holster for a Sig 1911 C3.
As far as the Sig C3 I have gone back and forth on so many small 1911 .45ACP it ha been a real struggle from a Les Baer Stinger to A Colt Defender. and Kimber 4 inch guns. I went with the Sig because of the dealer and the shop I hang out at and have bought a few Les Baer's using their FFL and they were always happy to do it. So It made me feel good to buy a gun from them. I could not buy a gun at another shop and then walk in their. They gave me what I felt was a fair deal and will do the same with the laser.
I hope this helped and if you get the holster i works out for you.
Bob