Northern Red 2-Day Carbine Gunfighter - May 19-20, 2012 - CHINO, CA

Northern Red, Inc.
www.northernred.com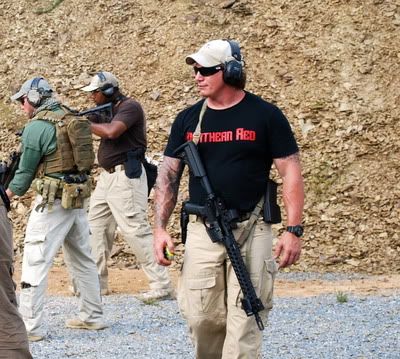 J.D. Potynsky, Northern Red-Instructor
J.D.'s military service includes serving as the senior weapons sergeant on a Specials Forces A-Team for the US Army's 3rd Special Forces Group Ft Bragg NC. J.D. has conducted combat operations on multiple deployments in Operation Iraqi Freedom (OIF) Iraq and Operation Enduring Freedom (OEF) Afghanistan. His combat decorations include the Bronze Star and Army Commendation Medal with Valor for actions during a 6 hour battle in Afghanistan. J.D. continued to deploy after his military career as a Program Manager and Country Manager in Iraq for a 200 man Private Security Contract.
Northern Red Instructor Cadre:
JD Potynsky 3rd SFG
Josh Collins 1st SFOD-D, 75th Ranger Regiment-(Northern Red Advisory Group)
Paul Tobias 3rd SFG, 75th Ranger Regiment
"Tracker" Dan Stanchfield US Navy SEAL
Grey Group Training:
www.greygrouptraining.com

Northern Red 2-Day Carbine Gunfighter - May 19-20, 2012 - CHINO, CA
Description: The intended audience for this course are shooting practitioners with a solid understanding of marksmanship fundamentals and strong weapons handling and manipulation skills. Relying on this former knowledge, practitioners will be baseline evaluated on their shooting performance of the fundamentals then pushed to execute and self-evaluate the skills necessary to successfully perform in a firearms engagement.
Topics Include:
• Principle Driven Training
• Mindset
• Marksmanship
• Shooting on the move
• Barricades
• Gunfighting in kit
• Standard and extreme transitions
• Visual focus
Format:
Flat range, lecture, SME discussion, mental and physically demanding courses of fire.
Prerequisites:
Firm grasp of shooting fundamentals, an open mind, good attitude, and thick skin.
Instructor(s):
J.D. Potynsky & Additional NR Instructors
Class dates:
May 19-20, 2012
Cost:
$450
Location:
CHINO, CA
Weapon & Gear Class Requirements:
Pistol
-- holster 4 pistol magazines, mag holders,
100 rounds of pistol ammunition
Carbine
-- 4 carbine magazines, mag holders,
1200 rounds of carbine ammunition
rounds carbine ammunition
Eye protection
, ear protection, kit and helmet you work in, gloves
Recommended
-- Hat, clothing appropriate for the season, hydration, SugarFree RockStar, back up parts for weapons, oil/weapons lube, cleaning kit.
If you are interested in attending this class please use this link to the Grey Group Training website:
http://store.greygrouptraining.com/2...TER-37750.html
If you have any additional questions please feel free to contact me;
[email protected]