How about that – another topic on which I can pontificate knowledgably!
The short answer is – use whatever works best for you - there is no right or wrong. But things aren't nearly that simple. As with the SxS discussion below, whole libraries have been written on this subject, so this will be a quick and dirty summary.
It is axiomatic that, if you want to be a really good wingshooter, any shotgun must fit the shooter. One size does not fit all. It is also axiomatic that the gauge/choke/ammo combo must be well tested and appropriate to the quarry/terrain/time of year. Having said those things, I'm not going to mention them again; and will talk only about bbl length and "handling".
"Handling" used to be this rather esoteric, subjective issue – "that gun handles like a wand"; or "that gun feel like a railroad tie when you put it on your shoulder"; or "that gun really swings smoothly". You get the idea.
People who are serious students of wingshooting can now go beyond that in defining handling. "Handling" is now understood to have two components – first, weight; and second, moment of inertia ("MOI") – and bbl length obviously plays into both of those factors.
Weight is the least critical of the two factors, but still important, because it is hard to carry and shoot a gun that is too heavy; and it is hard to shoot a gun that is too light very well, plus it will knock the snot out of you over the thousands of rounds you must shoot to become really proficient with any gun. For most people, anything much less than six pounds is too light to shoot well consistently and anything over eight pounds to too heavy to carry for all the countless miles any serious bird hunter covers on foot, and is getting too heavy to swing quickly. FWIW, I like my 20 gauge game guns to weigh exactly six pounds and my 12 gauge game guns to weigh 6˝ pounds.
MOI is the most important number. It can be measured objectively. A high MOI means that it takes a good bit of energy to start the gun twirling around its axis – generally because there is considerable weight out toward the ends of the gun – butt and bbl. A low MOI means that it does not take a lot of energy to start the gun twirling around its axis – generally because most of the weight of the gun is concentrated in the middle of the gun – the receiver, not the butt and bbl. With me?
Different people prefer different MOI's but generally full-race target guns will have a higher MOI than a game gun, because target shooting is a much more deliberate process. Game guns will usually have a lower MOI that a target guns because you need to be able to change direction of the swing pretty quickly as a bird's flight path is somewhat unpredictable. Obviously, extremes on either end of the MOI scale are not good. It is equally obvious that bbl length has a major effect on MOI.
Everything else being equal (which is never is the case!) a longer bbl will give you a slower MOI (thus the generally correct comments in the above posts about longer bbls for targets); and a shorter bbl will give you a lower MOI. How much depends on the weight distribution of a particular gun. If the MOI is too low, you will have a herky-jerky swing. If the MOI is too high, you will have a gun that you must really push hard to follow a bird.
Thus, for MOI purposes, select a bbl length that gives you the "handling" you most prefer.
One often hears that a long bbl gives a more precise sighting plane. That is true to a limited degree, but I think you need to be a very skilled and experienced shooter taking long crossing shots (not often taken on game birds but fairly common in tough sporting clays venues) to notice any difference. I shoot all the time and have a hard time noticing the difference between 28", 30" and 32" in terms of sighting plane. Thus, for most people this is a non-issue. It is certainly a non-issue in a game gun.
To me, the short bbl for use in heavy cover is a red herring. I've never had any trouble maneuvering a gun through the nasties due to bbl length. Similarly, bbl length (within practical limits) has zero effect on patterning or velocity.
With autos and pumps, subtract about 2" to get to the equivalent bbl length for a break-open gun, like a SxS or O/U. In other words, an auto with a 26" bbl is the functional equivalent of an O/U with 28" bbls; and an auto with a 28" bbl is the functional equivalent of an O/U with 30" bbls;
FWIW, I don't like 26" bbls on double guns - too whippy (very low MOI). 30" is my favorite bbl length for a double. In a top quality double with finely struck, light weight bbls, you get a significant steadying effect on your swing, but yet can change directions quickly enough if need be. A set of 30" bbls on an O/U game gun looks like this: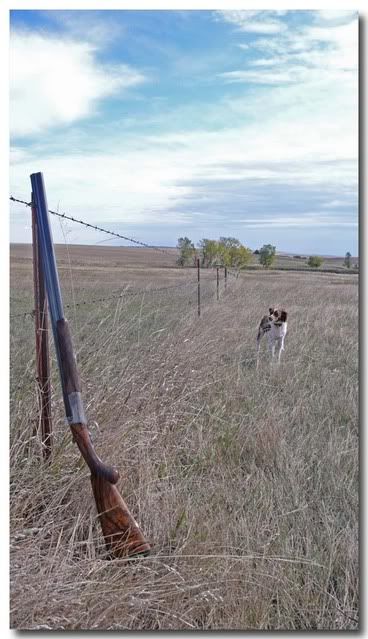 Bottom line – I'd recommend 28" bbls on an auto that will be used for both targets and game.