NORTHERN RED 2 DAY PISTOL GUNFIGHTER MAR 10-11, 2012 - HIGH VIEW, WV

Northern Red, Inc.
www.northernred.com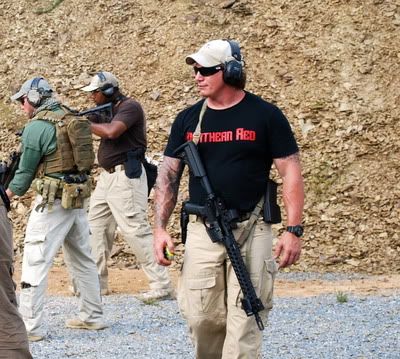 Northern Red is a proven leader in integrated performance training. We are experts in maximizing training time through efficiencies and use of combat proven methodologies and techniques. Northern Red instructors understand not only the process of training and presenting material academically, but have the experience that makes them intimately familiar with its application.

Northern Red instructors have decades of combined combat experience, from the military, law enforcement and other government agencies.

Training courses offered by Northern Red cover a wide range of military, police, security and peacekeeping topics. These courses can be delivered in any country for corporations, governments or military units. Curriculum can be customized to meet specific client requirements.

"You must train hard to be able to move into the attack and stop it before it even occurs. This takes great courage."
Northern Red Instructor Cadre:
JD Potynsky
3rd SFG
Josh Collins
1st SFOD-D, 75th Ranger Regiment-(Northern Red Advisory Group)
Paul Tobias
3rd SFG, 75th Ranger Regiment
John "Shrek" McPhee
1st SFOD-D/ 7th SFG
"Tracker" Dan Stanchfield
US Navy SEAL
Grey Group Training:
www.greygrouptraining.com

NORTHERN RED 2 DAY PISTOL GUNFIGHTER
10-11 MAR 2012 - HIGH VIEW, WV
Description: The intended audience for this course are shooting practitioners with a solid understanding of marksmanship fundamentals and strong weapons handling and manipulation skills. Relying on this former knowledge, practitioners will be baseline evaluated on their shooting performance of the fundamentals then pushed to execute and self-evaluate the skills necessary to successfully perform in a firearms engagement.
Topics Include:
• Principle Driven Training
• Mindset
• Marksmanship
• Shooting on the move
• Barricades
• Gunfighting in kit
• Standard and extreme transitions
• Visual focus
Format:
Flat range, lecture, SME discussion, mental and physically demanding courses of fire.
Prerequisites:
Firm grasp of shooting fundamentals, an open mind, good attitude, and thick skin.
Class dates:
MAR 10-11, 2012
Cost:
$450
Location:
HIGH VIEW, WV
Weapon & Gear Class Requirements:
Pistol
Holster
3-4 pistol magazines
Mag pouches
1200 rounds of pistol ammunition
Eye protection
Ear protection
Kit and helmet you work in
Shooting gloves
Notebooks pen/pencils
Recommended:
Hat, Weather appropriate attire, drinks, Sugar Free RockStar
Recovery, back up parts for weapons, oil/weapons lube, cleaning equipment,
If you are interested in attending this class please use this link to the Grey Group Training website:
http://store.greygrouptraining.com/2...TER-37639.html
If you have any additional questions please feel free to contact me;
[email protected]